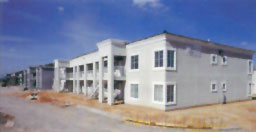 Becker V Development is a fifth generation Southern Nevada contractor and developer building custom and semi-custom homes, condominiums, townhouses, commercial shopping centers and apartment projects and subdivisions.
The Becker family has been developing the West for over 100 years. Becker V Development is dedicated to providing our clients with the finest professional construction services. Our philosophy hasn't changed since Ernest A. Becker I founded his firm in 1903. We cultivate and nurture clients relationships to expand our business, with client satisfaction the measure of our success.
Becker V Development provides excellent construction services in a variety of specialized areas. From small special assignments to large multi-phase commercial projects, our goal remains the same – to provide our clients with excellence and value.
Commitment to our community: Becker V Development donated management and constructions skills to build the Las Vegas Ronald McDonald House.
Call us today at�(800) 889-8550 to get started.
Nevada Contractors License: AB – General Engineering & General Building 0057905 Unlimited